Calvary pentecostal church
Attitude
is
Everything!
​
"Is God Good at Math?"
Proverbs 9:10
We are pleased to have Pastor Emily Wall ministering in our service this Sunday morning.
Join us this Sunday either at church or online at
10:00 AM!
​
Pastor, Wanda and family will be away this week on a family vacation. We are pleased to have Pastor Emily Wall speaking in our service this Sunday.
We are working hard to stay updated as changes occur and will quickly inform you of anything that affects our church and programs.
If you have any questions feel free to private message me, email me at call the church at 613-432-6785
​
Blessings,
Pastor Peter Snow
​
As we continue to maintain the protocols set out for us by local authorities, in the days ahead we ask you to:
​
1) Inform us when you plan on attending a service by phone or on our Facebook site by leaving us a message. If you can't make it out to church just yet, join us online for Sunday services at 10:00 AM. Use the live-stream tab on this page, click the play button shortly before 10:00 AM and don't forget to turn up your speakers! There is even a chat box below the live-stream screen where you can chat with one another as the service is going on!
2) Pray: During these times where we are for the most part, confined to our homes with restricted movement options, the greatest power we have against the work of the enemy is the power of prayer. Pray for our government leaders, pray for our health care workers, pray for your family and friends and pray for our churches to continue to reach the lost for Jesus Christ.
3) Stay connected: We live in a world that has prepared us for this. Most people have a computer, laptop, tablet or phone. Use these to stay connected with the people you love. Check in on them and see how they're doing. The church will be making contact periodically with all the people from our congregation.
4) Give: Tithing and giving is not based on attendance to a church, it is based on our income and faithfulness to God. For me, trusting God means that my tithe will continue because I want God's faithfulness to continue to me and my family. Giving can be done through our online donate button on our website or you can drop your tithe off at the church during regular office hours during the week. Tuesday, Wednesday, Thursday from 9 to 1.
5) Best practices/information when you come to church.
a) Maintain a 2 meter distance from those who are not a resident in your dwelling
b) Wear a mask that covers both the nose and mouth while not seated.
c) Use hand sanitizer and wash hands thoroughly whenever possible.
d) Entrance and dismissal will be controlled (10 at a time)
e) No visiting, shaking hands.
f) No singing during the worship time (Humming and raising of hands is encouraged!)
g) Only one at a time permitted in each bathroom.
h) There is no Sunday school and no nursery services available.
​
I am excited about what lies ahead. God is changing our mindset and our priorities to streamline them into a more focused goal.
Romans 8:28 says: "And we know that all things work together for good to those who love God, to those who are called according to His purpose."
​
Blessings to all,
Pastor Peter Snow & Leadership team
Missions are the heart of our evangelistic focus. Check out the missions tab to connect with the missionaries that we support.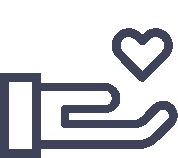 "Whoever is generous to the poor lends to the lord, and he will repay him for his deed."